How to Use Titles to Sell Your Gear
How to Use Descriptions to Sell Your Gear
Listing Text Guidelines
Overview
If you were looking at the following two listings, which would you click on?


The first example is the clear pick, because you understand what's for sale and the information is presented in a professional way.
We want to ensure that when you list an item, it's easily found by potential buyers. Adding extra or incorrect information to your titles, descriptions and other fields makes finding your item more difficult. So, let's dive into some practices for making the best possible listing.
How to Use Titles to Sell Your Gear
Aside from a great set of images, your title is the first thing potential buyers see when they're browsing the site. Our Make, Model, Finish, and Year fields autofill the Title for you. As long as that information is entered completely and correctly, a perfect listing title is already in place.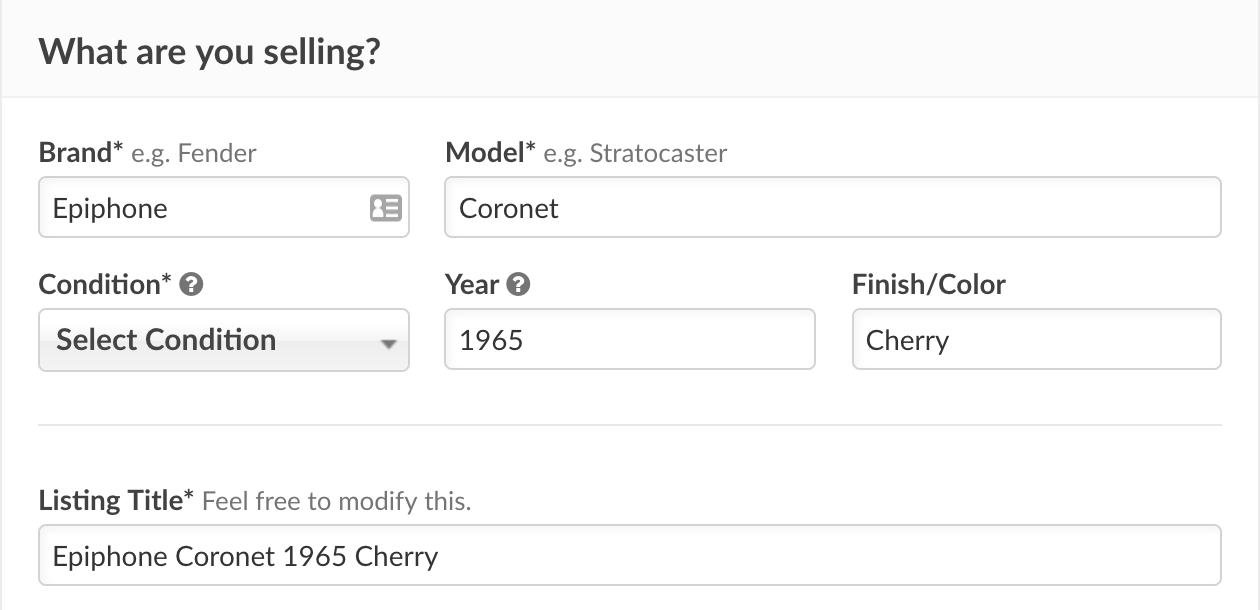 Other features of your listing like the condition and free shipping are already handled elsewhere in much more impactful ways. Be aware that any text added solely to draw attention will be removed, and the use of excessive capitalization is discouraged.
How to Use Descriptions to Sell Your Gear
Descriptions provide much more room to write out any known issues/damage, imperfections, modifications, or adjustments. Including these details will greatly reduce the risk of a dispute with an unhappy buyer down the road.
Descriptions are also where you can get creative and add personality to your listings. Have a great story about the item? Is it a family heirloom, or the guitar you took on your first tour? Be brief, but tell us about it.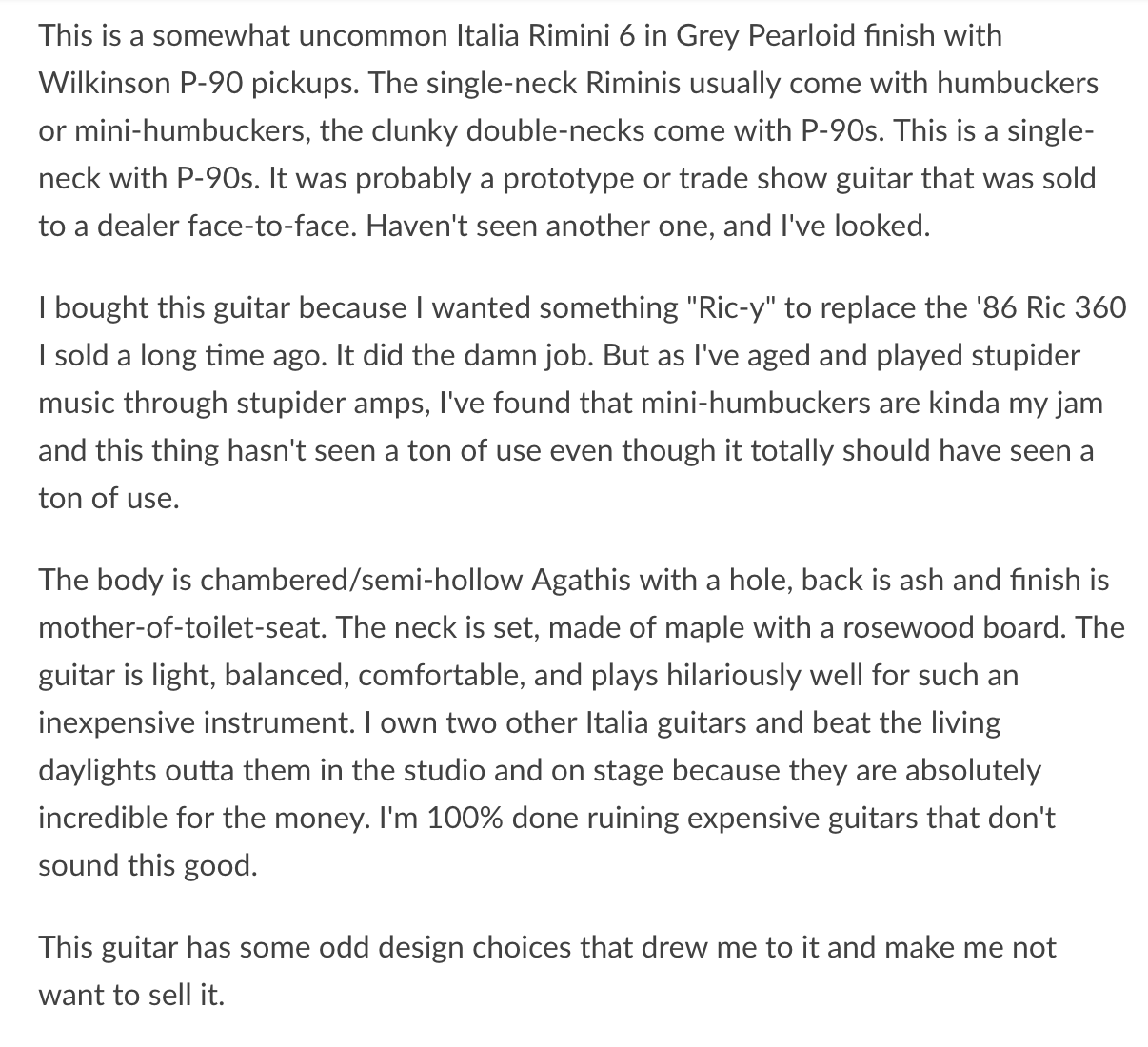 Once your title and description are in place, figuring out a reasonable, accurate price is vital for a quick sale. Our handy Price Guide is a great place to check how much your gear is worth. Take a look, set a price based on that information, and get selling.
Listing Text Guidelines
While we have plenty of suggestions and tips, we also have some guidelines that, if not followed, could result in the temporary removal of your listing from the site.
Phone numbers, email addresses, and any other contact information are against our guidelines. All communication between buyers and sellers must stay on our the site using our messaging and offer tools. If a dispute or issue crops up and communication took place off of Reverb, we have very little way to help those involved.
We prohibit any language seeking trades, want ads, deposits / down payments, or off-site language (this includes cash-only posts and bank/wire transfers).
Obscene or inappropriate language is not allowed.
Only currently authorized dealers may use the Brand New condition. For customer clarity, previously authorized dealers should list inventory purchased under lapsed agreements as Mint, but are free to detail the unplayed condition and any valid warranties in the description.
When selling a homebuilt item using open-source components, it's important that the Make field is not set to the brand whose design, code, or components were used for the build. Your own brand or 'DIY' are the appropriate values. In many cases, open-source licenses stipulate that you credit the manufacturer, so including their name in the title and listing description is fine - just make sure it's clear that you built the unit yourself.
ALL CAPS TYPING. NO ONE WANTS TO READ TEXT LIKE THIS, TRUST US. PLEASE DON'T DO IT. Also, emojis are fun ✨😁✨, but please refrain from using them in your listings. They can skew search results and block your listings from ad services.
Finally, be sure you're listing all items separately or as one single bundle. We don't allow single listings with multiple items for separate sale.
Overview
Selling on Reverb is fast and easy. Following these guidelines greatly increases your odds of driving more potential buyers to your listings. Ready to get started? Check out our other articles on listing guidelines or get selling.