Quick answer
Shipping Profiles allow sellers to standardize their shipping rates for similarly-sized items. This allows you to set your shipping rates once instead of setting them up individually. Shipping Profiles also unlock the ability to utilize our Combined Shipping feature.
How to create a shipping profile
Head to the Shipping tab of your Shop Settings page.
Select Create Your First Profile.
Enter the Profile Name, Category Linking, Delivery Methods, and Shipping Costs.
Select Save Profile.
Examples:
Say you're a US seller who only ships guitars and pedals. You can set up a profile for both items. One for pedals that says "each time I make a listing for a pedal, I want to charge $5 US shipping, $15 for Canada, and $25 everywhere else", and then one for guitars with the appropriate info.
Say you are an authorized dealer for a certain brand and have territory restrictions for where you can ship. Set up a shipping profile and specify rates for the countries or territories that you're allowed to sell into while leaving the Everywhere Else field blank.
Selecting regional shipping rates in the US
Sellers in the US and Canada can specify shipping rates by state to set up specific shipping regions.
Select Set shipping rates for the Continental U.S..
Set your default rate for standard shipping.
Choose states where you'd like to offer free shipping, or states where you can offer different rates.

Add international shipping options to shipping profiles
If you want to have a single shipping rate for all international orders, you can enter a rate under Where else in the world will you ship items in this profile?.

If you want to get more detailed, select Add Shipping Locations and set your rates on a regional level.
Once you set your rates, select Save Profile.
Using a shipping profile on a listing
After a shipping profile is created, it is saved in your account. Select that shipping profile in the Would you like to use a shipping profile? section when creating a listing, and all of your shipping rates for that category are applied.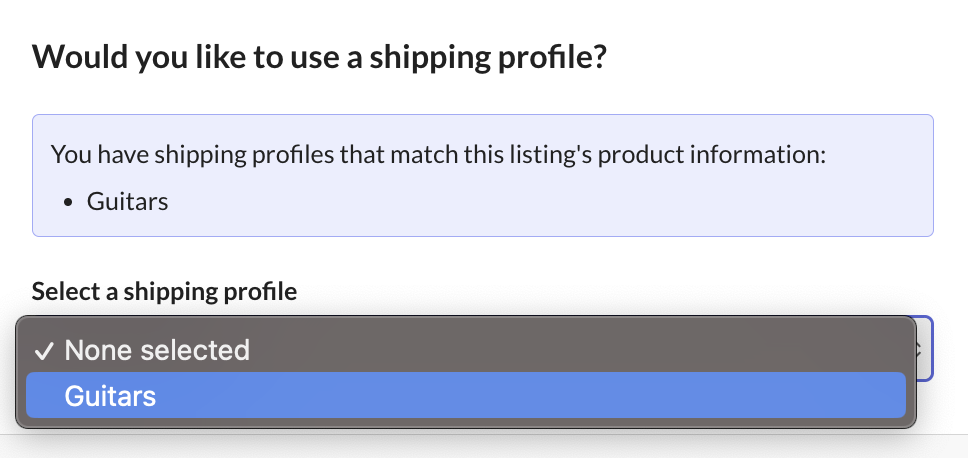 Important:
These profiles will not be added retroactively to existing listings. However, you can edit your existing listings to include their new shipping profiles.
To update your existing listings with your new shipping profiles in bulk, just check out our Manage Inventory feature.
If you have a specific shipping profile appended to a live listing/several live listings, and you then edit that shipping profile, all of your listings using that shipping profile will reflect the new prices.