Individual sellers on Reverb have different policies on international shipping. You can utilize our location and currency filters to customize your search results. 
Using the Shipping Region Filter
The "Shipping Region" selection at the bottom of any page on Reverb will filter listings so that you only see gear with a specified shipping rate to your region: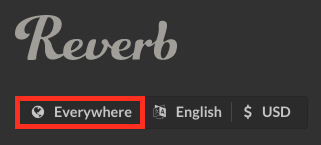 If that makes your search results feel too narrow, you can use the "Ships To" filter to broaden your search results set beyond your default Shipping Regions, or you can change your Shipping Region: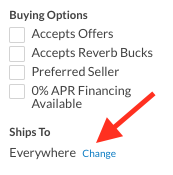 If you're interested in an item that does not have a shipping rate set for your country, simply use the "Message Seller" button on that listing to contact the seller directly and inquire about shipping arrangements.
How do I browse listings in a different currency?
You can select your preferred currency using the currency filter at the bottom of any page on the site. When a shop's items are listed in a different currency, Reverb will provide an approximate conversion based on the current exchange rate.
Further reading:
How do I view listings located in my own country?
How to use Favorites