If for some reason you need to issue either a full or partial refund on an order, simply click the "Initiate a Refund" button on your orders page in the "Selling" section of your Reverb account.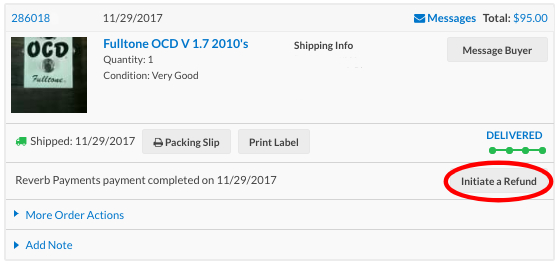 On the following page, you'll be prompted to enter the details of the return. You'll need to select:
1 - Whether you want to process a full refund or a partial one. 
2 - Whether you want to:
Issue refund now (select this option if the item never shipped, if you're processing a partial refund for repairs etc), or
Approve after return of item (select this option if you're taking a buyer return and you want the item back in your possession before processing a refund)
3 - The reason for the refund. If no other options apply, just select "other".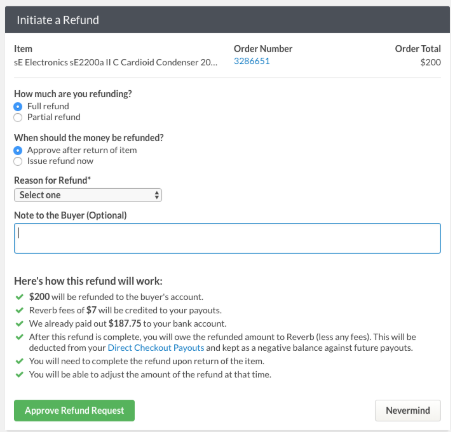 If the order was paid via PayPal, not via Reverb Payments, you will be guided through the necessary steps to issue that refund directly via PayPal using that same "Issue Refund" button.

If you selected to approve the refund upon return of the item, you will need to finalize the refund once you get item back. To do so, simply:

1. Head to your Orders page 
2. Select Review & Complete Refund
3. Once prompted, select Issue Refund Now

- - - - - - - - -
Once you've filled the form out, just Click "Approve Refund Request". Here's what happens next:
If the order was paid for via Reverb Payments, the refund will process this way:
Reverb refunds the buyer.
The amount refunded will be held as a negative balance in your Reverb account.
That negative balance will be deducted from your Reverb Payments payouts from future sales.
If you have not sold enough gear to cover that refund in full within 14 days, your billing credit card on file will be charged for the outstanding amount you owe to Reverb.
Any Payout Reverb Bucks on your account will also be used first to go against any negative balances on your Reverb account. 
Note: you will be refunded Reverb's 3.5% selling fee for refunds issued in full. For partial refunds, you will be refunded Reverb's 3.5% in proportion with the refunded amount.
If you have any further questions or need assistance with a refund, please feel free to chat us, or reach out here.