Congrats on the sale!
Reverb requires that all shipments are made and tracking information on orders updated within 3 business days of receiving payment.
First, box up your item nice and snug to make sure nothing can shift around and get damaged on its journey. Write down the weight and dimensions of your package, as you'll need those for the next step.
To make shipping quick and easy, Reverb offers convenient, printable UPS, USPS and FedEx shipping labels at a discount that you can create right here on the site. Shipping to a buyer outside of the U.S.? Great! If you are a U.S.-based seller, we also offer discounted international labels via USPS, UPS, FedEx and DHL. International labels include the same great protection as domestic shipping. Please note that international labels are subject to availability based on the buyer's location and have a maximum declared value of $2,500 USD.
To get started, just click your "Awaiting Shipment" notification, or head to this page. Click "Get Shipping Label" to take advantage of the discounted labels, or select "Add Tracking" if you already have a tracking number: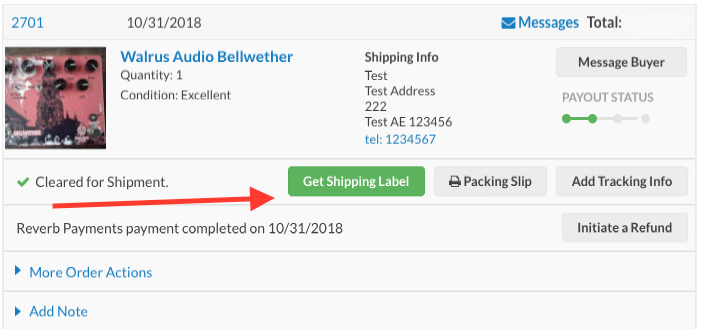 If you are simply adding tracking information, you'll be prompted to select your shipping carrier and enter that tracking number in the box provided in the "Add Tracking Info" field. In this case, you're finished! Once that tracking number is added, your buyer will be emailed with a link to track their incoming package.
If you plan on buying a discounted shipping label via Reverb, selecting the "Get Shipping Label" button will direct you to a new page which will be pre-populated with your address and the buyer's shipping address. You'll just need to enter the weight and dimensions of your package, then click "Review Rates" at the bottom of the page.
After that, just select the shipping label you wish to purchase. This will automatically append the tracking number to your order and email your buyer with their tracking information. If you are a Reverb Payments user, the cost of your shipping label will be deducted from your payout instead of being added to your statement.