Quick answer
On Reverb, you can list your musical instrument in a matter of minutes. Your gear will get in front of an audience of millions of passionate, trustworthy music makers.
The first thing you should do is choose where you'd like to be paid and what your return policy will be. You can edit both of these preferences on your Shop Policies page.
With Reverb Payments, you get paid out directly to the bank account you enter within your Shop Policies.
Sellers must have a
valid billing card on file
in order to list items. If the card is expired, or set to expire in the current month, you will be required to use a different one.
Step by step guide:
1. Start your listing
Click the Sell Your Gear button in the upper right-hand corner of the site.

If you add your item to the Brand and model name field, your item's product information will be autofilled on the following pages, along with tools to help price your gear and market your listing better.
If you'd rather fill out everything on your own, click start your listing from scratch.

2. Select the product you're selling
If you added your item to the Brand and model name field on the previous page, you will be directed to a page that lists all the relevant brands/models. Select the correct one by clicking Sell One Like This, and this will help autofill your listing sections for the following pages.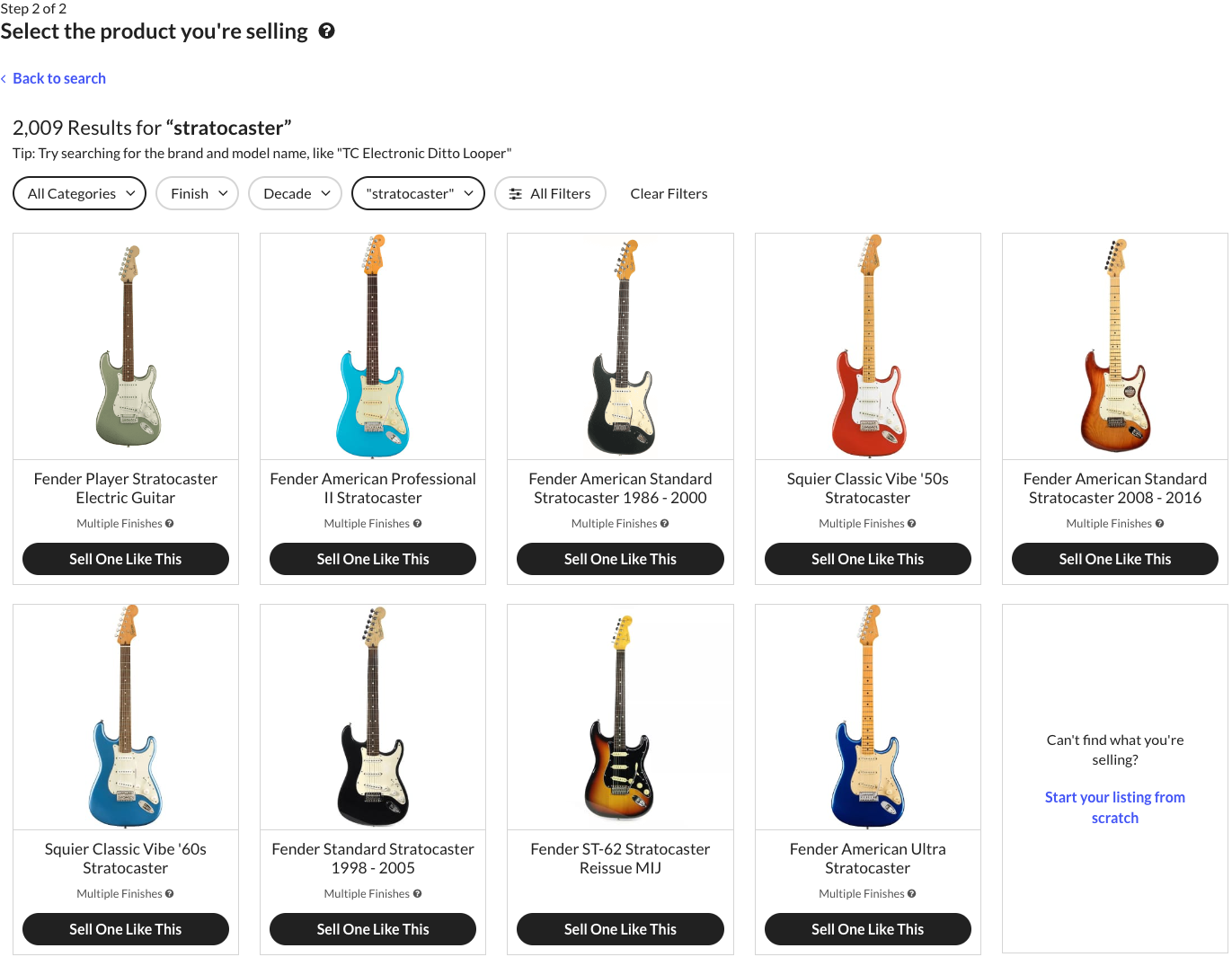 3. Add Product Info
In this field, you'll fill out some basic information about your gear such as make, model, year, etc. If you selected Sell One Like This in the previous step, you can select your item's model from the dropdown menu, where all the other fields will auto-populate. Otherwise, you can click Edit on the top right to input this information manually.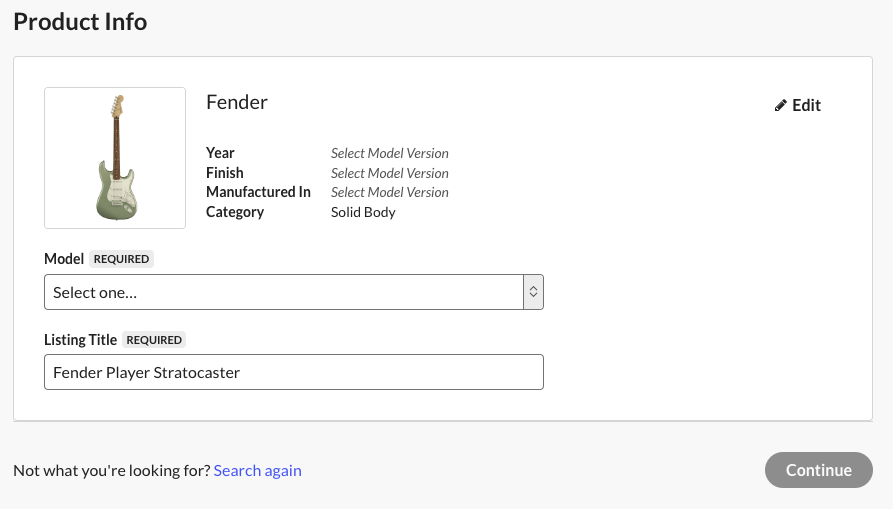 What you'll see if you select "Sell One Like This".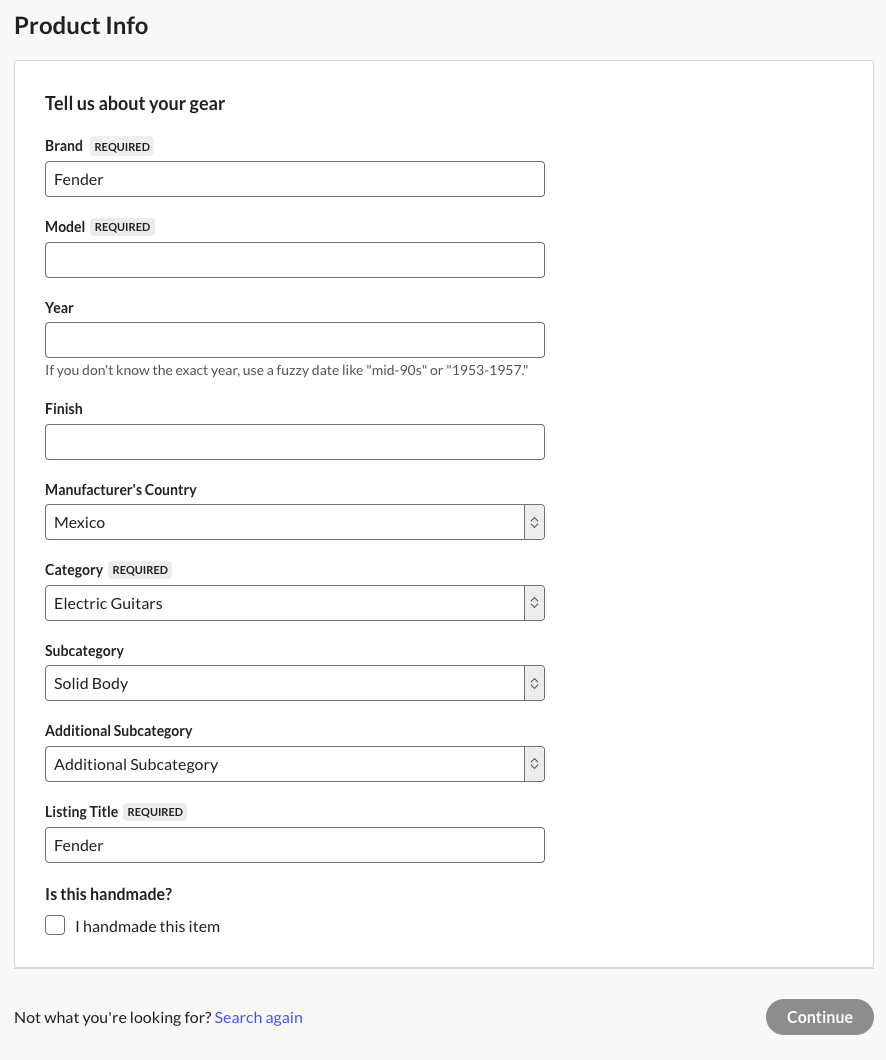 If you want to manually fill out your product info, this will be the landing page.
4. Photos & Description
If you haven't done so already, snap some photos of your gear. Be sure to take detailed photos with good light in order to expose any blemishes or scratches that the gear may have so your buyer knows exactly what they'll be receiving.
Simply drag and drop those photos into this box to upload them. Each listing is allowed up to 25 photos. Make sure your photos are at least 620 by 620 pixels.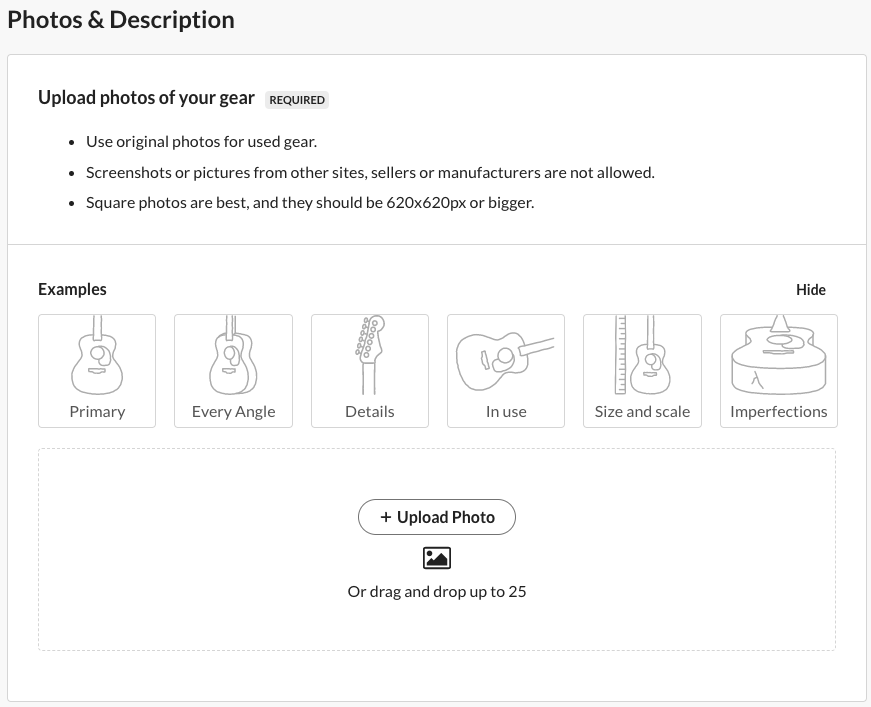 After this, you'll want to select the condition of your item and write a detailed description. The description should be as thorough as possible, and again, make sure you disclose any blemishes or quirks about your item that may affect the value or usability of the gear in order to avoid any complications after your buyer receives it. Be funny, be original, be quirky, be you!
In this section, you also have the option to check This item is sold "As-Described", where purchasers will not be able to return your item for any reason that's based on preference. However, returns will still need to be honored by the seller if the buyer reports your item is not as-described within 7 days of delivery, and provides documentation of the issues. Learn more about what qualifies for a return.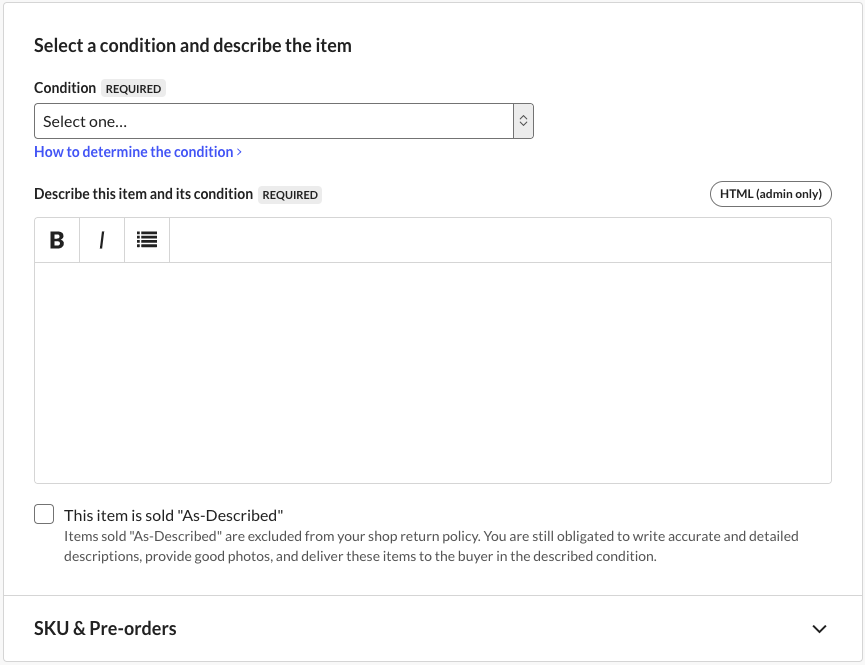 5. Shipping details
This is where you, the seller, will dictate how much you'll charge for shipping to whichever countries you choose to ship to. We have enhanced this form so you can either get calculated USPS shipping costs, offer free shipping or set a flat shipping rate for your region.
If you'd rather reserve the item for local pickup only, you can just leave that option selected.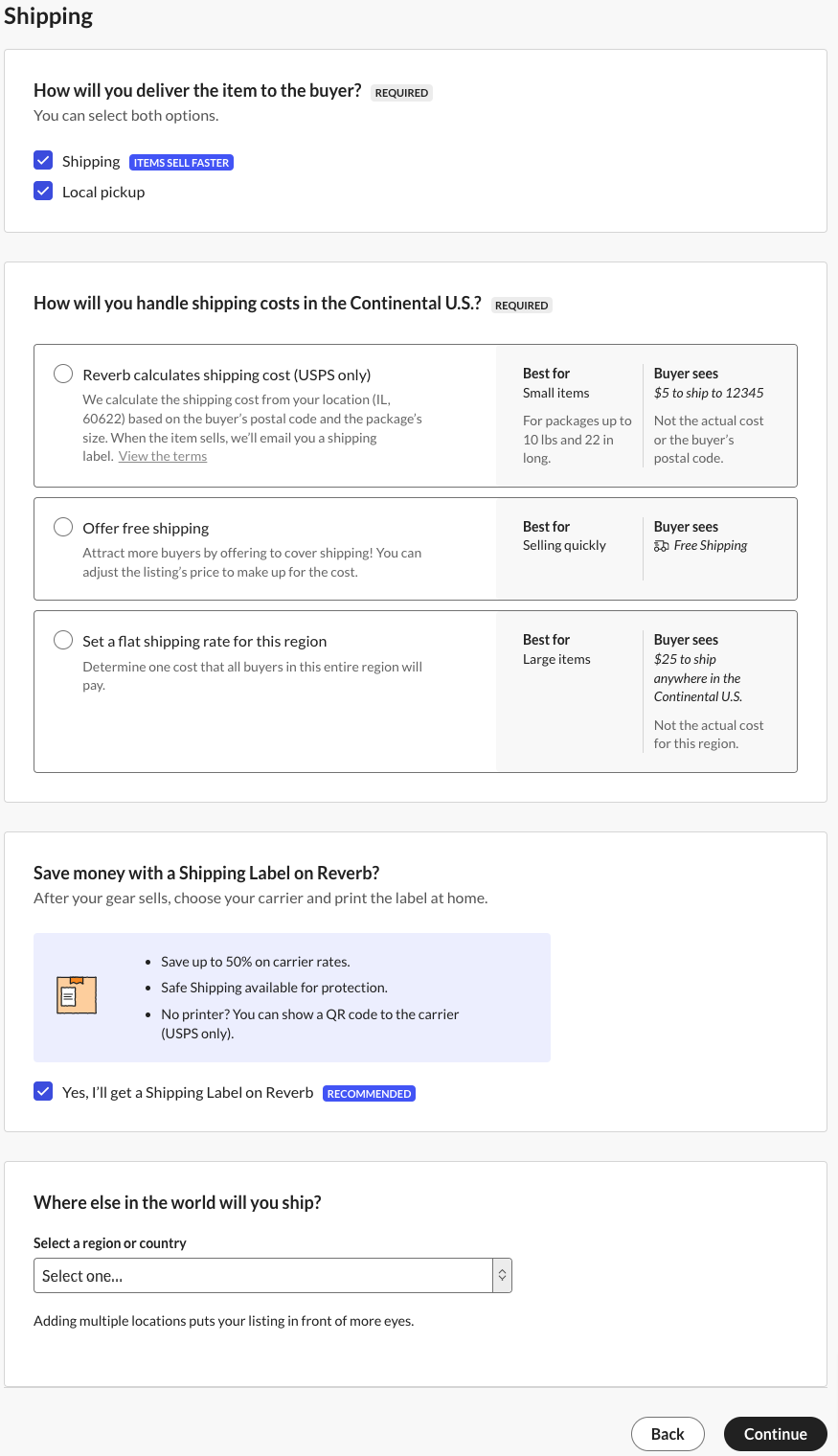 6. Pricing
This is where you determine the cost of your item and if you want to accept offers. As you fill this out, our system will help determine the amount of fees deducted from your earnings for full transparency. This does not include shipping or bump fees.
Not sure how to price your item? Check out our
Price Guide
.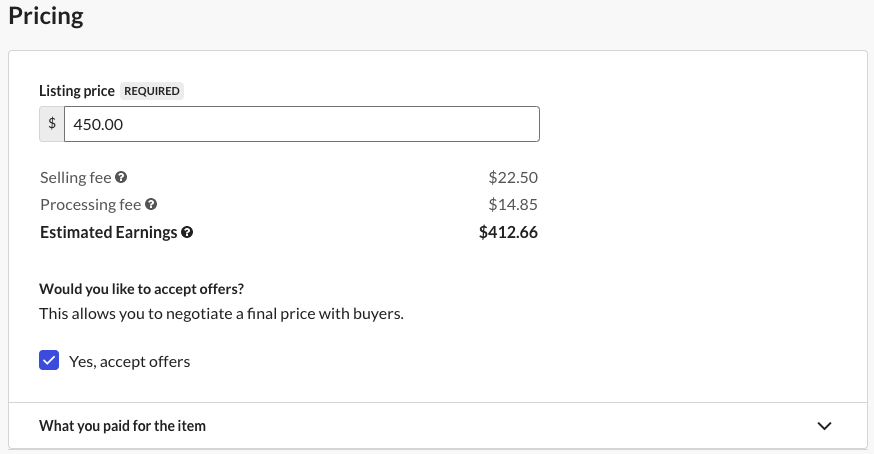 7. Review Your Listing
Finally, at the end of this process you can review everything you have entered/uploaded on one page. You can click Edit for any of the sections if you need to make changes. Once done, click Publish, located on the top and bottom of the page.
Additional Tips
As you progress through the listing creation process, your draft will automatically be saved as you continue through each page.
Once your listing is live, keep an eye on your email inbox for updates on messages, offers, and purchases from other Reverb users.