One of the major benefits of using our Reverb Payments system is the ability to opt-in to our sitewide sales. 

What are the requirements to add items to the sitewide sales?
1. You must activate Reverb Payments as your accepted shop payment policy.
2. If you are not a Reverb Preferred Seller, only Used inventory can be added to the sale.
3. If you are a Reverb Preferred Seller, you may be eligible to add Brand New inventory to the sales.*

How do I add my items to the sales?
If you are set up for Reverb Payments and would like to add some or all of your items to a current sale, simply click Selling from the main Reverb menu, then click the "Sale" button next to the item you'd like to add, then check the box for which sale you'd like to take part in.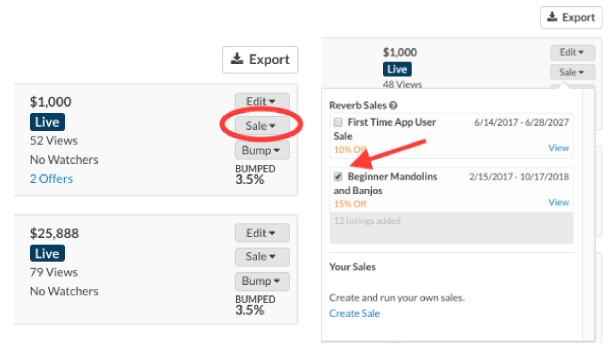 Discounts in Reverb Sales are offered by the seller, so make sure you're comfortable with the adjusted sale price of your listings before adding your inventory. 
If you have any questions or issues, don't hesitate sending us a message and one of our resident musicians will make sure to help out!
*Please refer to our auto-excluded brands page for a full list of restricted brands in brand new condition which applies only to the US and Canada.