Reverb Credits can be used towards purchases on Reverb. They are available for use on any listing where Reverb Payments is a payment option.
Reverb Credits can not be used towards purchases via PayPal or Affirm, only towards credit card purchases through Reverb Payments.
What Listings Accept Reverb Credits?
To find items that qualify, just search for the gear you're looking for, then check the "Accepts Reverb Credits" filter. On the web, this filter is located on the left-hand side of your screen after you search:
In the app, after you search, tap "Filter", then "Buying Options", then "Accept Reverb Credits":
How Can I Turn My Reverb Gift Card into Reverb Credits?
You can add Reverb Credits to your account by redeeming Reverb Gift Cards here. After the gift card is redeemed, you can see your credits in the main drop down menu on the top right of Reverb.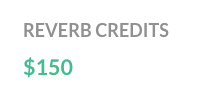 How Do I Use My Reverb Credits?
Once you have the Reverb Credits in your account, when you go to checkout with an eligible listing, you will want to select "Credit/Debit Card or Reverb Credits", then "Proceed to Checkout" and the Reverb Credits will be automatically deducted from the order total within the shopping cart.
If the Reverb Credits don't cover the entirety of the order total, you will then be prompted to enter in your second payment method (credit or debit card) to finalize the purchase.
Once your Reverb Credits are in your account, you will see their amount subtracted from the item price during checkout.
Reverb Credits can not be used to pay your Reverb Statements.