After the seller of your purchase adds tracking information to the order, you can view the status directly on your Purchases page. 
If you notice the tracking status reads Label Created, that means the shipment has been paid for and it's awaiting the first "in-transit" scan by the carrier.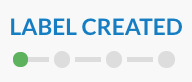 Additional resources
How to contact a seller
Need to get a hold of the seller of your item? Learn how.
My package is delayed or lost, what should I do next?
Has your item not arrived when it should have? Read about next steps.
How can I change the shipping address on my purchase?
Was the wrong address enetered on your order? Learn how to change it.
How am I protected if I do not receive an item or the item I receive is not as described?
Learn about the steps for ensuring you receive your money back when warranted.
Where can I view my seller's return policy?
Be sure you are able to locate the item's return policy. Learn how.
How does Reverb protect buyers?
Learn about how Reverb Buyer Protection works.